In recent years, based on the fact that China is increasingly known for its product advantages of price and quality, more and more people from different countries including Chinese people like to shop for their whole house building material and furnishings in China. Foshan is one of the most famous cities in China for whole house shopping. As a local resident and with professional sourcing experience, having been to many markets in Foshan with clients who came here for whole house shopping, I am happy to share my advice with you in the order of importance before you begin your shopping trip.
Part one : construction material:
You may mainly need :Doors and Windows ,Tiles ,balustrade ,Decking ,Roller shutter. garage door,cement board ,
Second part : home interior furnishing:
You may need :interior doors ,Tiles ,shutter or blind ,kitchen cabinet,Wardrobe,Closet ,pantry,shower cabinet,sanitary ,lightings ,chandelier ,curtain,wall paper ,Decoration,electricity appliances.and most important the furniture .
Regarding purchasing products for your dream house, the first important thing is to confirm the tone of your whole house. After you check many designs online, you will have an idea of the tone you prefer and what your dream house looks like. it it better that you ask your architect to provide the Drawings CAD file :for example: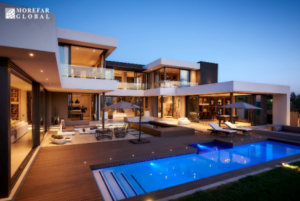 Tiles and Decking :Tiles for floor and wall, timber floor or WPC decking is the "tool" that helps you decide what the tone is because it covers your whole house and it will become the reference for buying other products. So they are the first items for buying when you begin your shopping trip. As for the tiles, people always use them in living room, dinning room and bathroom. There are many sizes such as 100*100cm, 80*80cm, 60*60cm, 60*120cm,etc.Full body Porcelain tiles and ceramic tiles are different. Normally porcelain tiles is more expensive than ceramic tiles. And you can choose glazed tiles with marble effect or matt tiles. If you want the tiles for shower room to be anti-slip, you can ask the supplier to process it by cutting some gaps on the tiles and they will charge you the processing fee. Tiles are packed by wood frame. People also like to buy timber floor for living room or bedroom because it's natural and makes people feel relaxed. And it's more expensive than tiles. WPC decking is always installed for outdoor like patio. Decking with square hole or round hole is common in the market. The one with round hole is stronger than the one with square hole due to the arch bridge theory. Timber floor and decking are in paper boxes for packing. Therefore, it's better ask suppliers to put thick plastic foam to product each corner of the boxes. Otherwise, it's easy to be damaged.
please note that now tile is anti-dumping product export to USA ,and we have a solution for this .
Windows and Doors : (this is a important part of your full house building material )After confirming the tone of the house, you can begin adding other items based on the tone. From my perspective, the second important element should be purchased is windows and door. Before visiting those suppliers, you need to have the drawing or exact sizes for your windows and door on hand. Having windows measurement, you can start to tell suppliers where to put the fixed windows, normal swing windows or awning windows and which windows are with clear glass or frosted glass. And there are some windows with mesh screen. You can choose that style if you want. Then you can choose the material and color for the frame and glass. Some windows have anti-noise function,thermal broken ,Low-E , As for doors, there are aluminium door and timber door for choices. You can check the designs in suppliers' showrooms. These days, people like the sliding doors or swing doors with slim frame. For the sliding doors, if you want to add mesh panel, don't forget to tell your supplier because they need to consider how many tracks to make. After deciding the design and color of doors, you can wait for your suppliers' quotations according to the sizes. Some good suppliers will also provide you their drawings for your final confirmation. About the package, you can ask suppliers to use wood package or steel package for the windows with enough plastic foam.
Going through the whole process, you will know buying windows and door takes time because there are many details. So if you have many windows and doors to make, remember to leave at least one day for them. One more thing I want to mention is that figuring out whether your country's regulation requires specific certificates or other criteria for your windows and door is extremely important. Then you will know what suppliers are suitable for you.
Please note that windows to Australia market need to be with Australia standard such as:AS 2047-2014.and to USA market , if you use it in California , the window and door need to be Low-e and meet USA standard . while in Foshan, there are few supplier can meet this quality standard.
Kitchen Cabinet and wardrobe closet:Purchasing windows and door is a smaller project when it is compared with customizing your dream cabinets for kitchen, bathroom, laundry, garage and customizing your wardrobe. This will be the largest project during your procurement trip. First of all, what you must do is bringing the complete drawings for your cabinets and wardrobes to those suppliers. Measurement is the most important in all details. Secondly, you can have a look at the designs that the suppliers have or you show them the designs you like. Then it's time to pick up the material and color for each cabinet and wardrobe. This is a headache part. You need to remind yourself of what tiles you have already bought and consider what material and color would match the tone. There are several kinds of material such as solid wood, MDF, plywood, chipboard, etc. And for the surface, you can choose glass panel, PVC coating, melamine coating, lacquer or veneer in the color you like. For some cabinets, you may need the counter top. Quartz stone, corian stone and caesarstone are good choices. After that, you need to choose the parts and accessories for your cabinets and wardrobes. As for the parts, there is famous brand named Blum. Its parts' quality is better than normal brand ones but it's more expensive. Accessories include spicy rack, tableware rack, kitchen tool rack, pantry basket, "lazy susan", shoe rack, tie boxes and so on. And appliances are also available. You can choose them if you want. Lastly, you can begin to talk about other details like where to leave a hole or gap. Then they can process them based on your requirement. After all of these, the supplier will draw 2D and 3D painting for you to confirm. There are two ways for packing. One is flat packing which saves space and protects the products better. The other is assembled packing which saves your time. But for wardrobe, it's better use flat packing or it may be damaged and over size inside the container. The process of buying cabinets and wardrobes is more complicated. You will spend more time on them .
Please read : The process of making your Kitchen cabinet and wardrobe /closet in China .
Sanitary :Finishing the schedule for cabinets and wardrobes, let's move to the next list for sanitary products such as toilet, bathtub, tap, basin, shampoo dispenser, towel holder, kitchen sink and so on. This part is simple. Sanitary product market is in the tiles market and kitchen cabinet market. So if you have idea of exact quantity of each product, you can take a look at them when you spend time on tiles and cabinet. There are many top brands and normal brands for choices. As for the toilet, you need to pay attention to its specification and check whether it is consistent with your country stardard . such as USA ,Australia water mark stardard .
Furniture :Next list should be furniture. It's also easy to buy furniture because it's not complicated though they also need to match the tone of your whole house. Before going to the furniture markets, you need to think about what furniture you need to buy and the quantity of each item. What's more, considering the budget for it is necessary. There are different markets focusing on different level products. So you can read some articles to have knowledge about those markets or ask the agent to recommend the market that meets your requirement. Normally, it takes about two days for furniture. Markets are very big and there are thousands of wholesalers. On the first day, you can just walk around and keep the designs and prices in mind. Then you can make decisions on the next day. Almost everything can be customized. You can change the size and pick up the material and color you prefer. Suppliers generally need 30% for deposit. After paying deposit, you will get the receipt and you can take pictures of that product or ask your agent to do it for record. Later, you and your agent can check the product when it's ready for shipping. furniture is the most important part of your whole fullhouse home furnishing shopping . Please see this link  for the best furniture markets in Foshan .you will understand more while you do furniture sourcing in Foshan China.
For the furniture ,you may need a home office furniture ,and home cinema to enjoy your life with your family .
Decoration:The last shopping schedule is for soft decoration. This must be the most relaxing part during your shopping trip. But you still have something to notice. You can buy rugs, carpets,artificial plants, painting, wall paper, lighting,chandeliers,pendant light, curtain and shutter for windows and door to decorate your dream house. Since different countries have different voltage and plug, you must let the supplier know your country's voltage and what does the plug look like. They can make it to be what you want. And some countries may need certificate for the lighting. You should figure out what the certificate is and find the right supplier. As for curtain and shutter, it's necessary to have the accurate sizes of your windows and door. You can ask the supplier to make it motor-operated if you want. There are two kinds of shutter. One is made of aluminium and the other is made of fabric. The aluminium one is always for security. And the fabric one is sunscreen. You can choose the blackout one or the one with 10% openness.
To finalize this article, I would like to tell you three more tips for your new home fullhouse furnishing and building material shopping trip. Firstly, visit three suppliers at least for each product to compare the price, design and quality. Secondly, always bargain. Thirdly, check those products when they are ready. You can also ask your agent to do so. After this amazing whole house shopping trip, you will know how clever, proud and happy you are because it helps you save lots of money and you have got all products you need in good quality.
Down load the whole house furnishings list template :
template list for whole house Shopping
Thank you very much for your reading .
MorefarGlobal provides one- stop whole house material sourcing service .help you to source the furniture supplier in China ,building material supplier in China #furnishing for new home #furnishing materials#fullhouse furnishing#furnishing sourcing#
Morefar Global. All Rights Reserved!